COMPETENCE IN ELECTRICAL DESIGN, INSTALLATION AND AUTOMATION SERVICES
Acu-Elektro has got 40 years of experience in electrical planning, installations and automation services in the private sector, maritime industry and other industries. "Our competence is in electrical design, installation and automation services – from the planning phase to the finished product." says Peter Skogvall, founder and CEO of Acu-Elektro.
Skogvall started as an assembler at Nautor's Swan in 1976. After a few years of experience, he noticed that there was a growing demand for jobs and realized the importance of creating them. In 1982 Skogvall set up his own business within his own niche and started to recruit employees, and Acu-Elektro has kept him and many others busy ever since. Today both of Skogvall's sons are partners in Acu-Elektro, so it's safe to say that the future of the company is secured. 
THE ROAD TO OQS
Skogvall is one of four co-founders of OQS. Acu-Elektro with their extensive experience in electrical design and installations in the maritime industry made the perfect partner in the upcoming new company. In other words, Acu-Elektro has been a vital part of OQS from the start.
Entrepreneurship and creating work for others has been a continuous theme for the co-founder. Besides the vision of creating a different and innovative product that wasn't previously known to our monohull-dominated region, another leading cause for founding OQS was to create more career opportunities for both local and international talents.
Up to this day, Skogvall and his team holds the responsibility for the planning of the electricity, automation and instruments on the catamarans. As the company is present during the whole process, it's only natural that they handle the installation of the systems and any other work in relation to that. In addition to this, the company also creates their own unique PLC (Programmable Logic Controller) programs for the systems installed, enabling the catamarans to have a state-of-the-art automation and control system not found on any other catamarans on the market today. Some advantages of the PLC programs are that changes are easier to make later on, several functions can be controlled from one switch and the monitoring can be done from one place.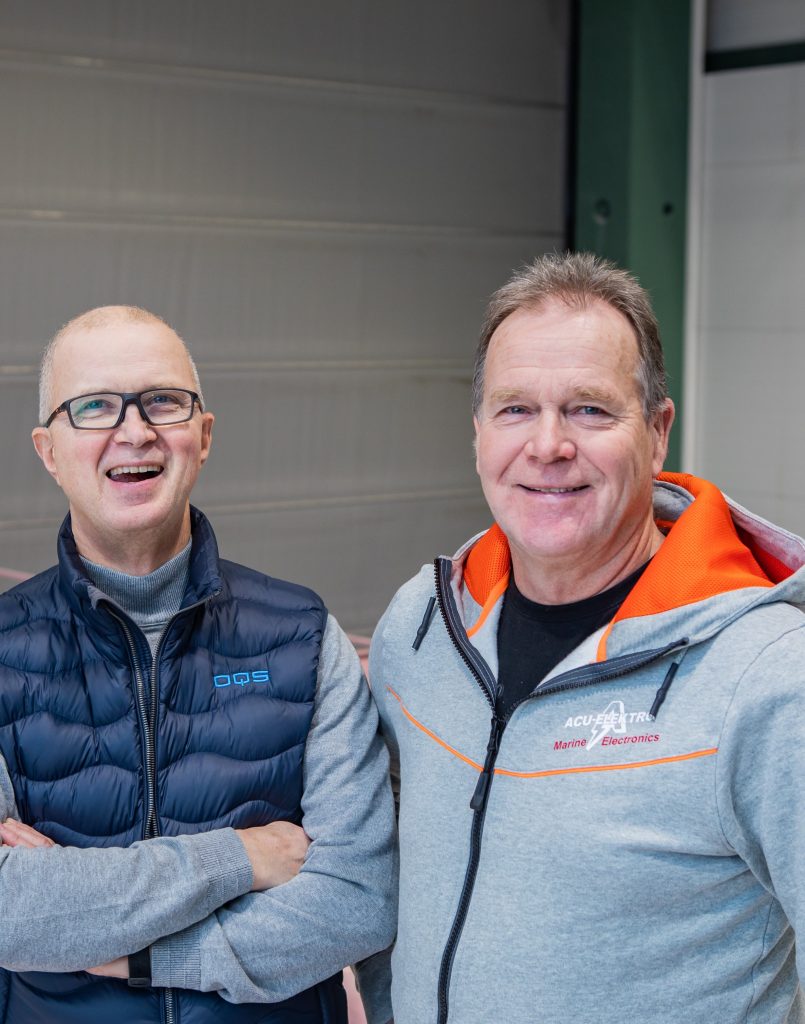 Peter Skogvall (right) pictured together with Bernt Riska (left). Photo by: Eva-Stina Kjellman
FROM STANDARDS TO CUSTOMIZED SOLUTIONS
"We usually start by presenting everything that is included in the standard specification to the client. From there, we go through his or her requirements and wishes for their yacht, so we are able to stitch it all together into a functional entirety in a way that makes everyone involved happy." says Skogvall. As an example, push button controls of main functions where the client can choose how the boat will be setup based on the useability and preference for controls.
Regarding the automation, the company has their own solutions for both alarm functions and the hydraulics. To enforce the safe usage of the boat there is a quick release system where the traveller function will be released when the catamaran heels over a certain degree which means the catamaran cannot flip over by sailing.
HYBRID SYSTEMS – A GREENER WAY OF LIFE
To keep up with the everchanging society, OQS continues to strive towards building a more environmentally sustainable product. "We are flexible with both traditional systems and hybrid systems." Skogvall states. With the last Ocean Explorer 72 having a high voltage hybrid propulsion system where electrical motors being the main propulsion Acu-Electro with OQS and Torqeedo have managed to create something that at the time of the delivery had not been done elsewhere with similar size and type of solution.